Sariska National Park, Jaipur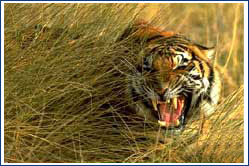 The Magnificent Sariska Tiger Reserve Allows You To Go For Camel Safaris, Or Go Out Shopping In The Surrounding Places Or Visit Ancient Monuments Located Inside The Reserve.
The Sariska Tiger Reserve is a National Park lying in the Aravali covering an area of almost 800 sq km area. It consists of grasslands, dry deciduous forests, cliffs and rocks. A wide variety of animal species are found in the Park which include the leopard, sambhar, chital, nilgai, four-horned antelope, wild boar, langur, hyena and jungle cats. Though tigers were present initially, recent censuses have revealed that there are no tigers in Sariska. Dhok trees cover almost 90% of the sanctuary. Besides it is home to India's largest population of peafowl in addition to quail, sand grouse, golden- backed woodpeckers and crested serpent eagles. The Siliserh Lake lying on the edge of the Park has quite a few crocodiles.
Located in Alwar district, the many temples and forts within Sariska point to a rich history. Every morning and evening, the varied wildlife in Sariska head towards the many water holes, providing guests with an unparalled chance to view wildlife in their natural habitat.
Inside the Park can be found several archeological sites like the Neelkanth Mahadev Temple and Garh Rajor Temple. Then there is the Kankwadi Fort inside the Park. The Mughal Emperor Aurangzeb had imprisoned his brother Dara Shikoh in the Kankwadi fort. Other attractions here include the Sariska Palace which served as the royal hunting lodge of the erstwhile Maharajas of Alwar.
The Park was originally the hunting preserve of the royalty of Alwar. Sariska was declared a game sanctuary in 1955 and a National Park in 1979 and lies 107 km from the state capital Jaipur.