Mount Abu Wildlife Sanctuary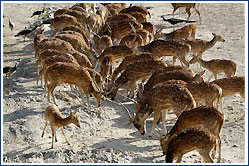 The Mount Abu Wildlife Sanctuary Is A Great Eco-Tourism Destination. Several Rare Species Of Flora And Fauna Are Found In This Wildlife Sanctuary.
The Mount Abu Wildlife Sanctuary includes a picturesque plateau that is about 19 kms is length and 8 kms in breadth. Attitudinally it ranges from 300 metres at the foot of the mountain to 1722 meters at Gurushikhar, the highest peak of the Aravalis. The rocks are igneous and due to weathering, large cavities have formed in the rocks.
This wildlife sanctuary has a strikingly rich floral biodiversity ranging from xenomorphic subtropical thorn forest at the foot hills to subtropical evergreen forest along the water courses and valleys. The forests here consist of around 112 plant families with 449 genera and 820 species. Mount Abu is the only place in Rajasthan where you can observe a wide variety of orchids, bryophytes and algae. Some very rare species of wild roses have also been sighted here. The southwestern part of the sanctuary is rich in bamboo forests.
Past records indicate the presence of Lion (last recorded in 1872) and Tiger (last reported in 1970). However, other species of wildlife like the Sambhar, Jungle Cat, Small Indian Civet, Wolf, Hyena, Jackal, Indian Fox, Common Langur, Wild Boar, Pangolin, Common Mongoose, Indian Hare, Porcupine and Hedgehog are still found here and can easily be seen during treks. This wildlife sanctuary also provides an ideal habitat for Sloth Bear.