Keoladeo Ghana National Park, Bharatpur
Famed For Being One Of The Finest Birding Areas In The World, The Keoladeo Ghana National Park Houses Many Exotic Bird Species. It Is Also Home To Many Other Species Like The Sambar, Chital, Nilgai And Boar.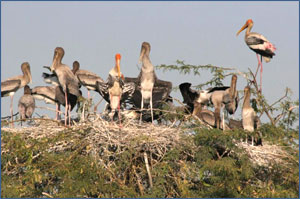 Declared as a world heritage site, it came to be called as the Keoladeo Ghana Park because of an ancient Hindu temple located at its centre. The temple is devoted to Lord Shiva. Ghana in Hindi means dense and refers to the thick forest that covers the entire area. Keoladeo was declared a National Park in March 1982 and became a World Heritage Site in December 1985.
Keoladeo's significance lies in the fact that it is the only wildlife sanctuary in India artificially made by a Maharaja. Its foundation was laid in 1760 when the Maharaja of Bharatpur built an artificial lake and a dam to store the water brought by the annual floods. More than 300 bird species are found in this 29-sq-kms-wildlife park which has marshes, scrubland and grassland.
It attracts many migratory bird species and hence is very popular with bird watchers. One of the most important breeding & feeding grounds for migratory birds in the world, it offers strikingly beautiful vistas with birds dominating the entire landscape. The migratory birds come from places as far away as Siberia and Central Asia in winter before returning to their homes. Among the various migratory birds which flock to this National Park, the important ones include several species of Cranes, Pelicans, Geese, Ducks, Eagles, Hawks, Shanks, Stints, Wagtails, Warblers, Flycatchers, Larks and Pipits. Possibly the most well known among these is the Siberian Crane.
Many other species of wildlife are also found at Bharatpur which include boars, sambar, otters, chital, foxes, fishing cats, blackbuck, leopards, frogs, snakes, snails, turtles and fishes.
There are plenty of forest trails, which can be covered on foot or on cycle. Boats are also available on hire. Though the Park is open throughout the year, the best time to visit the Park is between the months of October and March.