Darrah Wildlife Sanctuary, Kota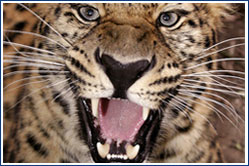 The Darrah Wildlife Sanctuary Is The Hunting Reserve Of The Erstwhile Maharajas Of Kota. Other Attractions Here Are The Old Hunting Lodges Of The Maharajas.
Spread over an area of 250 square kilometres and located 50 kilometres from the town of Kota, Darrah Wildlife Sanctuary used to be the hunting reserve of the erstwhile Maharajas of Kota. Densely wooded and spread over a hilly terrain, the Darrah sanctuary was officially declared as a protected area in 1955. Some of the important animal species which can be sighted in this sanctuary include the wolf, cheetah, nilgai, deer and wild boar.
There are great chances of spotting a leopard or a sloth bear here. Another major attraction here is the old hunting lodges of the rulers. In the days of yore, the Maharajas along with their royal entourage would come to the lodge, stay and make it a base for their hunts.
The word darrah means `pass', and it was through here that invaders fought their way into the hills of Hadoti and to the plains of Madhya Pradesh. The pass saw the onslaught of the Marathas during the reign of Umed Singh while the British were here to take on the Rajputs and Marathas.
Darrah wildlife sanctuary lies close to Jhalawar, where you will come across a magnificent fort. Then there is Jhairapatan, which is famous for the ruins of a Sun temple built in the 10th century.
The sanctuary is in the form of one long strip and at no place it is wider than 6 kms. It lies between two parallel mountain ranges and is surrounded by the Chambal, Kalisindh, Amjhar and Ahu rivers.
CLIMATE
Summer Max: 37.0 Degree C Min. 23.0 Degree C
Winter Max: 29.0 Degree C Min. 9.1 Degree C
The sanctuary remains closed between July to September due to monsoon. The best time to visit the sanctuary is during the months of October and June.
The Darrah wildlife sanctuary not only lets you enjoy the wild animals in their natural surroundings, but also presents a chance to visit many historical monuments.
Some of the attractions which lie in the vicinity of this sanctuary include:
NATIONAL CHAMBAL WILDLIFE SANCTUARY
The nearby National Chambal Wildlife Sanctuary extends into Madhya Pradesh. Spanning an area of almost 550 square km, it is home to a number of animals like the gharial, blackbuck, antelopes and the caracal.
SORSAN
The Sorsan grasslands lies 45km east of Kota and is home to a rich variety of migratory birds and insects.