Desert National Park, Jaisalmer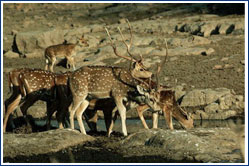 If you thought deserts do not support flora and fauna, think again. The Thar Desert in Rajasthan covers a large portion of western Rajasthan yet supports many species of flora and fauna. In this vast "ocean of sands" lies the famous Desert National Park, which provides a unique insight into the ecosystem of the Thar Desert and its diverse wildlife.
Situated in the Jaisalmer district of Rajasthan, close to the India- Pakistan border, the Desert National Park is spread over an area of 3150 sq km. It is considered to be among the largest National Parks in India. The Park consists of craggy rocks, compact salt lake bottoms and vast sand dunes. The leaf cover here is limited and not suitable for large herbivores. The wildlife here includes the spiny- tail lizard, desert monitors, chameleons and snakes. Other important animal species found here are the chinkara, blackbuck, the desert fox and Bengal fox among others.
This National Park is comparatively rich in avian population. The greatest attraction of the Park is the endangered Great Indian Bustard. This large, heavy and graceful bird draws thousands of bird lovers. Besides, the Great Indian Bustard, the Park also supports a wide variety of exotic and rare birds. While in the Park you can spot birds such as sand grouse, spotted eagles, quails, shrikes, peafowl bee-eaters, larks, eagles, harriers, falcons, warblers, babblers, buzzards, kestrel and vultures.
Sudashri, a forest post inside the Park, is the best place for spotting the wildlife of this Park .The best time to visit this Park is between November and January.