Ranthambhor National Park, Jaipur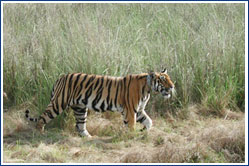 The only dry deciduous tiger habitat in the world, Ranthambhore National Park is one of the best places in the world to see wild tigers.
The Ranthambhore National Park, a part of the much larger Ranthambhore tiger reserve is situated in the Sawai Madhopur district of Rajasthan. The only forest reserve in Rajasthan and the entire Aravali Range, the dry deciduous forests of the reserve makes it very easy to view the King of the jungle.
The Chambal River lines the eastern boundary of the Park. Banas, a tributary of the Chambal flows towards the northeast of the Park while the Sawai Man Singh sanctuary lies to the south of the Park. The Sawai Man Singh sanctuary is also a part of the Ranthambhore National Park. To the northeast lies the Kela Devi Sanctuary. This Project Tiger reserve spans an area of 1334 sq. km, out of which an area of 282 sq. km is occupied by the Ranthambhore National Park.
The Tiger Reserve stretches over an area of over 70 kilometers. Ranthambhore is also the meeting point of the Aravali and the Vindhya hill ranges which perhaps explains its rich biodiversity. While the Vindhyas are characterized by flat table tops, the Aravallis are defined by sharp ridges and conical hill tops. A very important geological fault line - the Great Boundary Fault – runs right through the National Park.
The park is situated at the edge of a plateau and there are several lakes in the park. Named after the historic Ranthambhore fortress, the park is one of India's most important Project Tiger reserves.
The major animal species found in this Park include the leopard, dhole, wild pig, sambar, chital and the gaur. Besides it is home to many avian and endangered plant species.
Ranthambhore was declared as a Game Sanctuary in 1955 and a Project Tiger reserve in 1973. Ranthambhore was declared as a National Park in 1980. In 1984 the nearby forests were declared as the Sawai Man Singh Sanctuary and Keladevi Sanctuary.