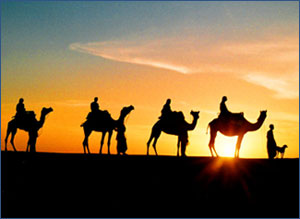 Imperial Rajasthan is an indulgence for all the senses. Luxurious palaces adorned with finest paintings, crystal and mirror work, and in several palaces even with semi-precious stones, are a feast for sore eyes. Wildlife parks and safaris for the thrill seekers, finest royal and world cuisine to tempt the palate and spas to treat world weary bodies. There is even shopping to beat all luxury shopping destinations, with finest silks, beautifully crafted jewellery, paintings and hand crafted products. Rajasthan is also an important destination for the spiritual seekers, with its beautiful Dilwara and Ranakpur temples being world famous.
The confluence of history of Rajasthan dating back to the time of Ramayana and Mahabharata, known records from the Harappan civilization, and an amalgamation of the Rajput, Mughal and British cultures have blessed Rajasthan with a matchless heritage. Rajasthan has the finest traditions in lifestyle, cuisine, textiles and arts and crafts that make for a truly luxurious living.
Rajasthan is also the land of warm and friendly people and is known for its hospitality. Most abodes of Royal families have now been converted into stunning heritage hotels; some of them like the Umaid Bhawan Palace have even found worldwide acclaim. With modern fittings, world spas, ayurvedic treatments and yoga, the properties are evermore popular with the people seeking the finest during their travel to imperial Rajasthan.