PEOPLE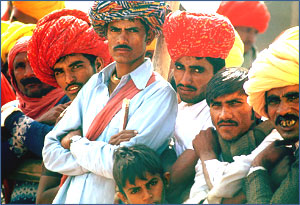 Rajasthan is a border state of India. It shares an international border with Pakistan. Down the ages, it has also been very important on the trade routes going from India to Middle East and beyond. As such, the native inhabitants of Rajasthan have also been invaded several times and there has been intermingling of people and cultures. After several such attacks, the indigenous people are believed to have moved to the South and East of India while the Aryans and the tribal people have remained behind.
The people of Rajasthan are as rugged as its topography ranging from the Great Indian Desert Thar and the Aravali Mountain Range. It is a religiously tolerant land like the rest of India and has been instrumental in the growth of different religions. As a result, Rajasthan has some of the most important pilgrimage places of Jain, Hindu and Muslim religions and some of the most beautiful temples in India such as Jain Temples Ranakpur, Dilwara Temples at Mount Abu also of the Jain religion and Temple of Lord Brahma at Pushkar as well as the Muslim pilgrimage centre of Moinuddin Chisti's Dargah at Ajmer.
Rajasthan has a wide tapestry of people. It has a large indigenous population of Minas (Minawati) in Alwar, Jaipur, Bharatpur, and Dholpur areas. Then there are the Meos and Banjaras who are travelling tradesmen and artisans. The Gadia Lohars are ironsmiths who travel on Gadias (bullock carts). The Bhils who are one of the oldest peoples in India can be found in the districts of Bhilwara, Chittaurgarh, Dungarpur, Banswara, Udaipur, Sirohi and are famous archers. The nomadic Kathodis live in the Mewar region while the Sahariyas are found in Kota district.
The Oswals hailing from Osiyan are mainly traders and are predominately Jains. The Jats and Gujjars are among the largest agricultural communities. The Gujjars who are Hindus dwell in eastern Rajasthan.
Though the Rajputs form a small percentage of the population, they are one of the most influential in Rajasthan and have left an indelible stamp on the history of this state as well as India. The Gujjars are Hindus who live in eastern Rajasthan. The nomadic Rabari or Raika are divided in two groups- the Marus breed camels while the Chalkias breed sheep and goats.
RELIGION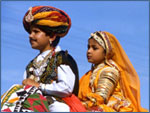 Hinduism is the religion of the majority of the State's population. The Hindus of Rajasthan worship various Gods like Brahma, Shiva, Shakti, Vishnu, and other gods and goddesses. Then there are followers of Arya Samaj. Besides, there are Jains, Sikhs and Christians too in Rajasthan. Jainism has many followers among the trading class. The Dadupanthis are the followers of Dadu, who preached equality, strict vegetarianism, total abstinence from intoxicating liquor and lifelong celibacy. Islam expanded in Rajasthan with the conquest of Ajmer. The Muslims number less than 10% of the population. Most of the Muslims in Rajasthan are Sunnis while a few of them are Shiites.