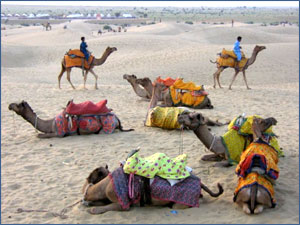 Rajasthan has a long and chequered history. It is replete with stories of courage, chivalry and sacrifice. Add to it the splendid desert landscape and the beauty of Aravali Mountains and what you get is a place like no other.
Inhabited at least since 2500 BC, even the Indus Valley Civilisation has left its footprints in Rajasthan. The Bhil and the Mina tribes were the earliest occupants of Rajasthan and it still has a sizeable tribal population.

Around 1400 BC the Aryans came to India through Rajasthan and made this land their home. As a result, the local inhabitants moved downwards to South and outwards to East. Various invaders like Afghans, Turks, Persians and Mughals have mixed with the local people and given the martial bloodline to the Rajputs.
The many forts of imperial Rajasthan have a million stories to tell and even more remain embedded in the sands of time. The Rajputs rose to power and prominence in the 9th and 10th centuries. They were a chivalrous breed of people and lived a life of honour and bravery. The Rajput king Prithviraj Chauhan, defeated Muhammad Ghori in the battle of Tarain though he was defeated and killed by Ghori later.
The great Rana Pratap of Mewar, fought bravely against the Mughals and after his death in 1597, his son, Ambar Singh, carried on the struggle. Many other Rajputs however entered into matrimonial alliances with the Mughals. The Mughal emperor, Akbar, consolidated and expanded his empire because of his ties with the Rajputs.
At the time of India's independence, Rajasthan was known as Rajputana comprising of 18 Princely States, two chieftains and a British administered territory of Ajmer-Merwara besides a few territories outside its main boundaries. After independence, gradually each princely state was merged into the Republic of India and the Rajasthan state was formed.
The Rajput rulers have given a rich legacy in the form of their monumental building works, their customs, their business acumen and through their patronage of arts and crafts. Consequently, Rajasthan today has numerous man made lakes that not only add to its beauty but are also instrumental in the available of water, stunning forts and palaces that are known across the globe for their wealth of architectural design and furnishings, colourful festivals and fairs that draw everybody from far and near and its folk music and dances have been influenced the mainstream to create chartbusters.
Rajasthan's history has no parallels anywhere and every fort, every mansion, every garden oozes history…So, come to Rajasthan and feel it for real…