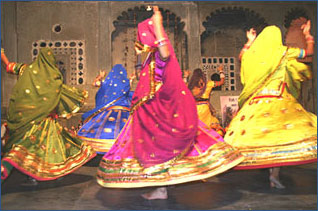 The magical land of Rajasthan resonates with music and dance. For centuries, dance and music have flourished here through being patronized by the royalty. The music is simple and reflects the life of the ordinary people. The golden sands of Rajasthan come alive with the sounds of the Sarangi, Shehnai, Manjeera, Khartal and Dhol to the soulful strains of songs that may have royal, romantic or religious themes. What makes the dance performances more attractive is the eye-catching attire of the dancers. Women are generally dressed in heavily embroidered long flowing skirts with multi-coloured veils and beautiful necklaces and bangles. The men wear heavily frilled and embroidered 'kurtas' or jackets. The special Rajasthani turban is a sight to behold.




It is a very special experience to view a performance of Rajasthani music and dances in the sand dunes under the stars or even in the luxury of your hotel while enjoying a sumptuous meal.




Music

Water is very important for the people of Rajasthan. There are many songs sung by women about water and are known as panihari. Then there are songs sung in praise of various deities and songs composed by saints like Surdas, Kabirdas and Meerabai. Musical traditions are passed on from generation to generation by groups like the Langas, Manganniyars, Mirasis and Dholis. Ballad singers sing songs dedicated to folk heroes like Tejaji, Gogaji and Ramdeoji. They narrate tales of battles and legendary lovers and their love stories. Some of the important musical instruments of Rajasthan include the Shehnai, Morchang, Khartal, Chang, Ghoongharoo, Manjeera, Kamayacha, Bankia, Dhol, Nagara and the Ravanhatta


Dance

Rajasthan is equally famous for its dances. Dancers in exquisite clothes make the desert come alive. Each region in Rajasthan has its own distinct dance form. Ghoomar is a community dance performed on auspicious occasions. Chari dance is performed with pots on the head and a lighted lamp during marriage or on the birth of a male child. Kachhi-Ghodi and Kathputli (puppet dance) are also popular. In the 'Bhavai' dance, the veiled woman dancer moves with seven to nine brass pitchers over her head and stands gracefully on the edge of glass or an unsheathed sword.


Geendar Dance is performed by people from the Shekhawati region, generally in the month of March to celebrate Holi festival. The Sapera Dance performed by the Kalbeliya community is enchanting for its snake like movements. The Terah Taali is performed by the Kamad community of Pokhran and Deedwana to honour their folk hero, Baba Ramdeoji. The fire dance is a devotional dance of Bikaner region. Fire dancers dance on a bed of flaming coals swaying their bodies to drum beats. Other popular dances include the Charee Dance which is specially performed at the time of arrival of the bridegroom and his party at the bride's house.