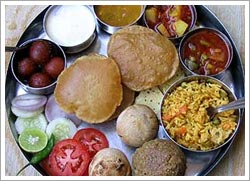 Rajasthan is a land of sumptuous cuisines. The presence of royalty ensured that the preparation of food was a very complex matter and was raised to the level of an art form. The 'Khansamas' (or royal cooks) kept their most treasured recipes to themselves. Some of them have been passed on to their descendents and the chefs of high-end hotels.
Rajasthani cuisine was influenced by the lifestyle of its inhabitants and the availability of ingredients in this region. The people preferred food that could last for several days and could be eaten without heating. Another factor that influenced the cooking style was the scarcity of water and fresh green vegetables. People from the desert belt of Jaisalmer, Barmer and Bikaner, use minimum water and prefer milk, buttermilk and clarified butter.
Some of the main ingredients used in Rajasthani cooking include dried lentils, beans from plants like sangria and ker. Gram flour is widely used to make delicacies like khata, gatta ki sabzi and pakodi. Rajasthan has both vegetarian and non-vegetarian cooking. There are some communities who do not eat after sunset and whose food is even devoid of garlic and onions
The Mughals also influenced the eating habits of Rajputs. The Mughals introduced simple grilled meats served on leaves, elaborate curries, kebabs and pulao. Other delicacies include the Puris which are delicious, fried wheat bubbles, Khud Khasrgosh (Hare or rabbit meat cooked in a pit), Lassi (buttermilk), Sula (tender meat morsels marinated in a mixture of dry yogurt, onions, garlic, ginger, coriander, red chillies etc).