Rajasthan's tribal population constitutes about 12% of the total population of the state. Though they have different customs and rituals, yet they have many commonalities too.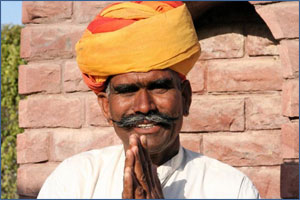 The major tribes of Rajasthan are the Bhils and the Meenas who were the original inhabitants of Rajasthan but were forced into the Aravalli hills by the Aryan invasion. Then there are smaller tribes like the Sahariyas, Garasias and the Gaduliya lohars.
Though the various tribal groups have some common characteristics, there are differences in their costumes and jewelry, fairs and festivals etc.
BHILS
The Bhils constitute 39% of Rajasthan's tribal population. The term Bhil describes their talent and strength. Legend has it that the Bhils were fine archers and are mentioned in the Mahabarata and the Ramayan. Highly regarded as warriors, they were originally food gatherers. The Baneshwar fair is a festival of the Bhils organized near Dungarpur in January/February each year. Bhils attend this festival in large numbers. Besides, Holi is another important festival of the Bhils.
MEENAS
After the Bhils, the Meenas are the second largest tribal group in Rajasthan. They are originally thought to be inhabitants of the Indus Valley civilization and it was the Kachhawah Rajputs who forced them into the Aravallis. The Meenas are tall and athletic, with sharp features and generally live in the Shekhawati region and eastern Rajasthan. Though they were originally they were a ruling tribe, their decline began with the advent of the Rajputs. The literacy rate among the Meenas was very low, but is gradually picking up.
GADULIYA LOHARS
The Gaduliya Lohars were originally a martial Rajput tribe and were named after their beautiful bullock carts (gadis). Nowadays they are nomadic blacksmiths. Legend has it that they wandered from their homeland of Mewar because of their promise to their 'lord' Maharana Pratap.
GARASIAS
Garasias are a small Rajput tribe found near the Abu Road area of southern Rajasthan. They have an interesting custom of marriage through elopement, which generally takes place at the annual Gaur Fair held during the full moon in March. A bride price is paid to the bride's father after the elopement, which can be spontaneous or pre-arranged.
SAHARIYAS
The Sahariyas are thought to be of Bhil origin and are found around Kota, Dungarpur and Sawai Madhopur. They are jungle dwellers, with their name possibly being derived from the Persian word. 'Sehr'. Widely regarded as the most backward tribe in Rajasthan, they eke out a living as shifting cultivators and by hunting and fishing.