Palace on Wheels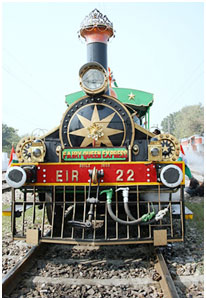 The Palace On Wheels Is A Train Like No Other. It Is Among The Top Ten Luxury Trains In The World. Explore The Heart Of Rajasthan While You Soak In Luxury, Maharaja Style.
The Palace on Wheels is a one-of-its kind luxury train run by the Indian Railways. The train departs from New Delhi and during its eight day sojourn travels across the heart of Rajasthan, stopping in Jaipur, Jaisalmer, Jodhpur, Sawai Madhopur, Chittorgarh, Udaipur, Bharatpur besides Agra, where you can visit the Taj Mahal. Though the train was earlier restricted to foreign tourists, it was later opened to Indians also. This enchanting train is sure to take you to the bygone era of the erstwhile Maharajas.
The Palace on Wheels has been rated as one of the top ten luxury train journeys in the world. These coaches belonged to the erstwhile rulers of princely states like Rajputana, Gujarat, and the Nizam of Hyderabad besides the Viceroy of British India. After India's independence they fell into disuse. In 1981-82, the Rajasthan Tourism Development Corporation and Indian Railways decide to launch a special heritage tourist train to take visitors into the heart of Rajasthan and the Palace on Wheels started rolling.
The Palace on Wheels has opulent cabins, wall to wall carpeting, a well stocked bar, two dining cars and a completely personalized service. It comprises of 14 air-conditioned deluxe saloons, all with world class amenities. The 14 saloons are named after former Rajput princely states. Each saloon contains a mini pantry and a lounge which ensures the ready availability of hot and cold beverages. The saloons have channel music, attached toilets and running hot and cold water besides all the amenities of modern life. There are sparkling clean washrooms while each saloon lounge is equipped with color television and a CD player.
There are two restaurants in the train. Named as "The Maharaja" and "The Maharani", they offer Continental, Chinese, India and Rajasthani cuisines. Even the attendants are dressed in traditional finery thereby adding to the experience.