Adventure and Sports
Rajasthan Offers Unbounded Adventure Through Its Eco Habitats, Wildlife Reserves, Desert Safaris And Sand Dune Camps, Sports And Even Ethnic Lifestyles.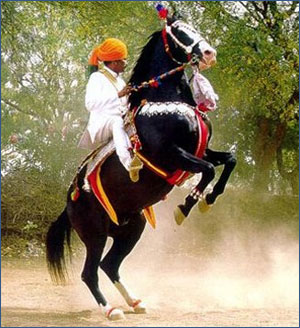 The Royals of Rajasthan have always been pleasure and thrill seekers. The numerous palaces, wildlife reserves, and hunting lodges are a testimony to this. While they enjoyed hunting, trekking and other adventurous activities, the Royals liked their creature comforts even more; that's the reason for the existence of so many palaces and luxurious hunting lodges in the midst of wildlife reserves.
While hunting is now banned, wildlife can still be enjoyed at close quarters while staying in a luxurious palace hotel. Rajasthan has several locations dedicated to Project Tiger (Sariska and Ranthambore), bird watching (Bharatpur) and even an eco-zone in Mount Abu.
If you are an adventure sports enthusiast, you will love Rajasthan. The excitement of Ballooning is available to adventure sports lovers in Rajasthan. The terrain of Rajasthan is ideal for ballooning. Rajasthan's open countryside provides ample opportunities for gliding as well. Gliding trips can be organized with permission from civil aviation authorities.
Though you may not associate Rajasthan with trekking, it provides plenty of opportunities for trekking in its hilly regions. The most popular trekking trails are in the Mewar belt around Udaipur-Kumbhalgarh-Chittaur, the area around Mount Abu and the Sariska-Alwar-Amber belt. While winter is the best time for trekking, the monsoon months provide an ideal, romantic getaway.
The thrill of a deep blue moonlit sky out on the sand dunes with campfire and music and dancing can be enjoyed at luxury campsites. Camping in Rajasthan has been transformed into a fine art. Made-to-order tents include those with bedrooms, a hallway or leisure area and attached bath. Luxury tents can be found Samode Bagh, in the outskirts of Jaipur and at Pushkar. Camping allows you to experience nature at its best.
The tents can be set up almost anywhere in Rajasthan. There are even fully functional camps at different places such as Chetoli located off the Delhi-Jaipur highway, Kheechan, Manvar on the Jodhpur-Jaisalmer highway and Ranthambor.
There are many opportunities for water sports in Rajasthan due to the presence of large lakes. Besides, facilities for boating exist in places like Udaipur and Siliserh Lake near Alwar.
There is a 9-hole golf course in Jaipur. Vintage car rallies are also organized in Rajasthan as are polo competitions including Horse Polo, Camel Polo, Elephant and Bicycle Polo.