Day 01 : Arrive Delhi
Arrive by International flight, after traditional "Swagat" (Welcome) our representative would assist you at airport & transfer to hotel for check in. Delhi is a bustling metropolis, which successfully combines in its folds the ancient with modern.Its strategic location was the prime reasons why successive dynasties chose it as their seat of power. In fact, more mythological cities are believed to be here, like the city of Indraprastha from the Hindu epic Mahabharata, founded around 5000 BC. Numerous monuments were built over several centuries by different rulers like Qutub-ud-din Aibek, Alauddin Khilji, Tughlaks, Humayun & Shah Jahan, who built the Walled City Shah Jahanabad.
Later in first half of 20th century much of New Delhi was planned by Sir Edwin Lutyens, who laid out a grandiose central administrative area as a testament to British rule in India. The division in walled city & New Delhi also marks the division in life styles.
Overnight Hotel - Delhi (B)
Day 02 : Delhi
Today we take a guided tour of Old Delhi, the 17th century walled city of Shah Jehanabad, Visiting the great Jama Masjid, the principal

mosque of Old Delhi. Built in the year 1656 AD by the Mughal Emperor Shah Jahan, it is the largest & best known mosque in India. Later we walk down or take a rickshaw ride through Chandi Chowk, the old marketplace of Shah Jahanabad now a picturesque bazaar to reach Red Fort, built in the year 1648 by Shah Jehan.
In New Delhi, we visit Raj Ghat, memorial to the Father of the Nation, Mahatma Gandhi. It is a simple black marble platform that marks the spot of his cremation on 31 January 1948. Further we drive past India Gate, memorial built in the year 1931 to commemorate the Indian soldiers who died in the World War I & the Afghan Wars. The names of the soldiers who died in these wars are inscribed on the walls. President's House, the official residence of the President of India, built in 1931. Until 1950 it was known as Viceroy's House & served as the residence of the Governor-General of British India. We will also visit Humayun's Tomb, memorial of Mughal Emperor Humayun, built in the year 1562. The complex is a World Heritage Site & the first example of this type of Mughal architecture in India. Qutub Minar, built in the year 1206 by Qutub-ud-din Aybak. It is the tallest (72m) brick minaret in the world, an important example of Indo-Islamic Architecture. Qutub Minar & its monuments are listed as a UNESCO World Heritage Site
Day 03: Delhi - Agra
Today we drive to Agra, beautifully situated on the banks of river Yamuna. It achieved prominence as the capital of the Mughal Emperors from the year 1526 to 1628, remains major tourist destination because of its many splendid Mughal-era monuments, most notably the Taj Mahal, Agra Fort & Fatehpur Sikri, all three are UNESCO World Heritage sites.
En route Mathura & Vrindavan


En route visit Mathura & Vrindavan, places related with the birth & childhood of Lord Krishna. In Mathura we visit Shri Krishna Janmabhumi temple, a stone slab marks the original birth place of Krishna. In Vrindavan we visit Bankey Bihari Temple, built in the year 1864. Temple is famous for the black statue of Krishna, also called as Thakur Ji. ISKCON Temple, one of the most beautiful temples in Vrindavan. Temple is devoted to Krishna, his brother Balaram & Krishna's beloved Radha.
Half Day Tour
Today we visit Taj Mahal, symbol of eternal love, which stands on the banks of River Yamuna. It was built by the 5th Mughal Emperor, Shah Jahan in the year 1631 in memory of his wife, Mumtaz Mahal. It was completed in 22 years. Further we visit Agra Fort, taken over from the Lodhis by the Mughal Emperor Akbar in the late 16th century. The Fort can be more accurately described as a walled palatial city. It was built from red sandstone, often inlaid with white marble & intricate decorations. We will also visit Sikandara, Akbar's tomb. His son Jahangir completed the construction of the tomb in the year 1613.
Overnight Hotel - Agra (B)
Day 04 Agra - Jaipur via Fatehpur Sikri (260 km - 6 hr)
Today we drive to Jaipur en route we will visit Fatehpur Sikri (Ghost Capital), the political capital of India's Mughal Empire under Akbar's reign, from the year 1571 until 1585, when it was abandoned, ostensibly due to lack of water. We visit Emperor Akbar's Residential complex, Mosque & Tomb of Salim Chisti.
Later we continue our drive to Jaipur, popularly known as Pink City, the flamboyant & colourful capital of Rajasthan. With its rich & colourful past, resplendent with tales of valour & bravery, it is now one of the most important heritage cities in India. The city was founded in 1728 by Maharaja Sawai Jai Singh II, the ruler of Amber. It remains the only city in the world symbolizing the nine divisions of the universe, through nine rectangular sectors.
Overnight Hotel - Jaipur (B)
Day 05 Jaipur
Full Day Tour


Today we take an excursion to Amber Fort (11 km); the palace complex which stands to this date was commenced under the reign of Raja Man Singh. We take an Elephant ride to reach the Fort situated on the hill, an overwhelming experience.
Later we visit the City Palace, a perfect blend of Rajasthani & Mughal architecture. The center of the palace is a seven-storied building called Chandra Palace, with fine views over the gardens & the city. Further we visit Jantar Mantar, the Solar Observatory, an astronomical treasure house, with solar devices that give accurate predictions till date. We now visit Hawa Mahal (Palace of Winds), a five-storied structure of pink sandstone. It was built in the year 1799 so that veiled royal women could peer down the busy street market unseen by the world through its 593 stone Jharokas (mini windows).
Optional Tour - Chokhi Dhani
An evening excursion to Chokhi Dhani complex, ethnic village resort located at a distance of 15 km from Jaipur. Rajasthani village atmosphere is recreated on the sprawling ground & includes the entertainment by folk dancers & musicians. Later drive back to hotel.
Overnight Hotel - Jaipur (B)
Day 06 Jaipur - Jodhpur via Pushkar (317 km- 8hr)
Today we drive to Jodhpur via Pushkar, an enchanting small town located exactly on the edge of the desert but is separated from it by Nag Pahar, the Snake Mountain. The town frequently visited by devotees lies to the side of the small Pushkar Lake with its multitudes of bathing ghats & temples. It also holds the most unique fairs of its kind in the world. It is a combination of an animal fair & the religious fair. Both the fairs are enchanting & have their own unique aspects & quality. As per the Indian calendar the fair is held in the first lunar cycle in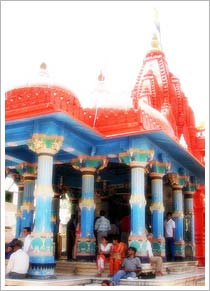 the month of Kartik culminating on the Kartik Poornima (Full moon).
Here we visit Brahma Temple, said to be the only dedicated to Lord Brahma in India. This is the only temple of the god Brahma in the world. No pilgrimage of Hindu places is considered complete till the pilgrim bathes in sacred waters of Pushkar. Also some near by temples
Later we continue our drive to Jodhpur. Set at the edge of the Thar Desert, Jodhpur is the second largest city in Rajasthan & once was the capital of the Princely State Marwar. It was founded in the year 1459 AD by Rao Jodha, chief of the Rathore clan of Rajputs & its landscape is dominated by the massive Mehrangarh Fort. While the graceful palaces, forts & temples strewn throughout the city bring alive the historic grandeur, the exquisite handicrafts, folk dances, music & the brightly attired people lend a romantic aura to the city.
Overnight Hotel - Jodhpur (B)
Day 07 Jodhpur
Half Day Tour
Today we take a guided tour of Jodhpur, visiting the Mehrangarh Fort (Majestic Fort), one of the most impressive & formidable structures anywhere in India. Built by Rao Jodha, this 5km long Fort is on a 125m high hill & has some magnificent palaces with marvelously carved panels latticed window. The Fort Museum houses an exquisite collection of palanquins, howdahs (Elephant saddles), royal cradles, miniatures paintings, musical instruments, costumes & furniture.
We also visit Jaswant Thada, a cluster of royal cenotaphs in white marble built in the year 1899 AD in memory of Maharaja Jaswant Singh II. Within the main cenotaph are the portraits of various Jodhpur rulers. It is an architectural landmark of Jodhpur.
Overnight Hotel - Jodhpur (B)
Day 08 Jodhpur - Udaipur via Ranakpur (325 km - 7 hr)
Today we drive to Udaipur, was founded in the year 1568 by Maharana Udai Singh after his final unsuccessful attempt to defend the Mewar capital, Chittorgarh from the invading Mughals under Emperor Akbar. The Kingdom of Mewar was considered the most respectable among all Princely states in Rajasthan & still remembered for the courage to protect the Kingdom. The site for Udaipur was chosen for its natural beauty, abundant water & natural protection afforded by the surrounding forests & Aravali mountains. It is set on the edge of three lakes & also known as the "City of Lakes & Palaces". Undoubtedly one of the most romantic cities in India, its beautiful Palaces are mirrored in the calm waters of Lake Pichola & the city is a brilliant kaleidoscope of narrow lanes flanked by bright stalls, gardens, lakes, palaces & temples.
En route Ranakpur
En route we will visit Ranakpur, renowned for some marvelously carved Jain temples in marble, created in the 15th century AD during the reign of Rana Kumbha.
Later we continue our drive to Udaipur,
Optional Tour - Sound & Light Show / Vintage Car Collection
Overnight Hotel - Udaipur (B)
Day 09 Udaipur
Full Day Tour


Today we visit the City Palace, an intriguing collection of buildings contributed by various Maharanas (Kings) after Udai Singh & built in the year 1725. The magnificence of the Palace starts right from its entrance at the northern Tripolia Gate that brings us to the central courtyard, the best place to view the facade of filigreed balconies & ornate cupola-topped towers. Sahelion ki Bari (Garden of Maids of Honour) is an ornamental garden built by Maharana Sangram Singh for his daughter & the Ladies of the Queen's court. He built the garden with several fountains, pools & is decorated with chiseled pavilions & elephants. The fountains worked on the unique hydraulic technique devised in the year 1700 AD & work till today.
Later we visit Jagdish Temple, the Indo-Aryan temple, built in the year 1651 AD by Maharana Jagat Singh, is the largest & the most beautiful temple of Udaipur with noteworthy sculpted images. We also enjoy boat ride on Lake Pichola, the beauty of the lake is enhanced by the surrounding hills, palaces, temples, bathing ghats & embankments. The Jag Niwas (Lake Palace) & Jag Mandir, the two island palaces on the lake look like pearls in the lake.
Overnight Hotel - Udaipur (B)
Day 10 : Udaipur - Mumbai (Flight 9W-709-0820hr-0935hr)
Today we take a flight to Mumbai, an archipelago of seven islands. Artifacts found that these islands had been inhabited since the Stone Age & documented evidence of human habitation dates back to 250 BC. In the 3rd century BC, the islands formed part of the Maurya Empire. In 1534, Portuguese appropriated islands from king of Gujarat later ceded to Charles II of England in 1661, as dowry for Catherine de Braganza. These islands were in turn leased to the British East India Company in 1668.
Full Day Tour


Today we take a City tour of Mumbai visiting Gateway of India, the entrance to the port of Mumbai. It was built to commemorate the visit of King George V in 1911. Across the road we visit Prince Wales Museum, built in a confluence of Gothic & Moorish styles. It boasts a collection of ancient Indus Valley artifacts dating 2000 BC, plus some priceless Tibetan & Nepali Art.
Later we take the boat cruise from Gateway of India to visit Elephanta Caves, houses rock cut temples dating back to 5th century CE. It was named by the Portuguese, after the statue of an elephant near the landing area of the island. We also drive through the Marine Drive, which runs along the shore of the Arabian Sea from Nariman Point past Chowpatty Beach to the foot of Malabar Hill. Evening we take a flight to onward destination.


Our tour concludes: We thank you for your patronage & look forward to serve you again in near future.
Package includes:
09 Nights accommodation on twin sharing basis with Breakfast.
A/C transportation as per the itinerary (No transportation on leisure days).
Local English speaking guide during the tour except Fatehpur Sikri.
Elephant ride in Jaipur.
Boat ride in Udaipur and Mumbai.
Package does not include:
Any airfare or airport tax.
Any Monument entry fee & camera fee.
All presently applicable taxes.
Any expense of personal nature such as hard/soft drinks, laundry, phone/fax calls, tips etc.
Any other expense not mentioned in the "Package includes".