Havelis of Jaisalmer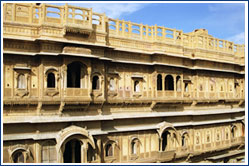 The Beautiful Mansions Constructed By Jaisalmer's Wealthy Merchants Are Known As 'Havelis' And Are A Treat For The Eyes Because Of Their Unique Frescoes.
The havelis in Jaisalmer are wonderfully built in sandstone and have carvings with intricate details. Built in lavish detail, they are a quite spectacular and attract tourists from all over the world.
The most famous havelis of Jaisalmer are listed below:
Nathmal ki Haveli, built in the late 19th century was a Prime Minister's house. Its two wings - left and right were carved in an identical manner. Yellow sandstone elephants stand majestically at its entrance. Minute attention has been paid to every detail in the haveli.
Patwon Ki Haveli is held to be the best among the havelis of Jaisalmer. Standing in a narrow lane in the heart of the city, it was built by Guman Chand Patwa and his five sons, who were renowned dealers in brocade, gold and silver embroidery and carried out trade with countries ranging from Afghanistan to China. There are five suites in the building and were designed to showcase their beauty of work.
Salim Singh ki Haveli was built about nearly 300 years ago and a part of this haveli is still being used as a residence. Owned by Salim Singh, who was a former Prime Minister of Jaisalmer, it has an arched roof with carved brackets in the form of peacocks. Lying at the eastern end of the city, tourists flock in droves to see this magnificent piece of architecture.