Jaisalmer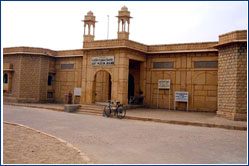 Jaisalmer, The Epitome Of Imperial Rajasthan, Shines Through Its Golden Fort And Painted Mansions.
Jaisalmer is one of the better known destinations in imperial Rajasthan. Jaisalmer is a fairytale destination and its medieval charm is unparalleled. With its known history going back a thousand years, Jaisalmer has plenty to offer any visitor. The royals and noblemen made this town a place of fine living. Its forts and palaces with their intricate carvings and bright colours are beloved destinations of people from all over the world. Jaisalmer is known for its luxury camel safaris on the sand dunes. Its medieval mansions are a fine example of the craftsmanship and architecture of Rajasthan.
A memorable honeymoon in peaceful surroundings of a luxury palace hotel, rubbing shoulders with Hollywood celebrities like Brad Pitt and Angelina Jolie, best of ayurveda spas, whatever the heart's desires, they can all be fulfilled in Jaisalmer.
The golden city of Jaisalmer shimmers like a jewel in the heart of the Thar Desert. Famous for the Golden Fort (Sonar Quila), camel safaris and the desert festival, Jaisalmer is a place you cannot afford to miss out.
Jaisalmer, the golden city lies at the heart of the Thar Desert. Founded by Rawla Jaisal, a Bhatti Rajput King in 1156 A.D, Jaisalmer lies atop the Trikuta Hill. The havelis in Jaisalmer glisten in the Sun and glow in the moonlight. The exquisitely carved houses in Jaisalmer have earned it the sobriquet of "Museum city".
WHAT TO SEE:
The Golden Fort rises from the sand and merges with the golden colours of the desert. Salim Singh Ki Haveli was built about 300 years ago. Other attractions include the Jain Temple, Gyan Bhandar, Salim Sing Ki Haveli, Patwon ki Haveli, Nathumal ki Haveli and Amar Sagar, Mool Sagar and the Gadisar Lake. A luxury camel safari to the sand dunes in the vicinity of Jaisalmer is an absolute must.
CLIMATE:
Summers: Maximum temperature rises to 47 degree Celsius.
Winters: Minimum dips to 1 degree Celsius.
Rainfall: 30 cms.
Clothing: Summer: Cotton. Winter: Woolen
Best Time to Visit: July to March.
SHOPPING:
Jaisalmer is famous its traditional rugs, handwoven blankets, shawls, mirror work, silver jewelry, antiques and old stone work.
EXCURSIONS:
The major attractions around Jaisalmer include Devikot, Ramdeora, Sam Sand Dunes, Lodhruva, Bada Bagh, Wood Fossil Park, Desert National Park, Barmer and Pokhran.
FAIRS AND FESTIVALS:
The spectacular Desert Festival is organized every year around January-February.