Hawa Mahal, Jaipur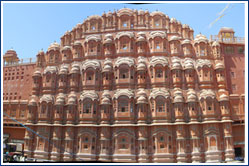 The Hawa Mahal Or The Palace Of Winds Is One Of The Most Important Attractions In Jaipur And Is An Example Of Traditional Rajput Architecture At Its Best.
The magnificent Hawa Mahal in Jaipur was built in 1799 by Maharaja Sawai Pratap Singh. Designed by Lal Chand Usta in the form of the crown of Lord Krishna, it is a part of the City Palace in Jaipur and was originally built to allow the ladies of the royal court to observe day-to-day life in the busy streets below while being hidden themselves.
The Hawa Mahal has five stories and was built from red and pink sandstone. The side of the Hawa Mahal facing the street below has 953 small windows. The breeze flows through these windows and keeps it cool and lends it the name Hawa Mahal (Palace of Winds).
Hawa Mahal is an extension of the Zenana (or women's chambers). A beautiful example of Rajput architecture, the Hawa Mahal is ornately decorated. From the Hawa Mahal you can get a spectacular view of Jaipur city with its bustling streets and people going about their daily chores.
The monument has tiny lattice worked windows, small balconies and arched roofs. At the entrance to the Hawa Mahal from the City Palace side, lies an imposing door which leads to a spacious courtyard. The courtyard has a double storied building and a museum. The eastern wing of the Hawa Mahal has three more storeys. There are only ramps to reach the upper floors.
Try to make it to the Hawa Mahal during sunrise when sunlight streams in through the latticed windows. The view is simply breathtaking.