Jaipur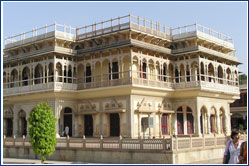 The Pink City Of Jaipur Tops The List Of Every Visitor To Rajasthan. This Majestic City Is Known The World Over For Its Attractions Galore That Leave Everyone Awestruck.
Jaipur, popular worldwide as the Pink City, is the capital of Rajasthan. Founded in 1727 by Maharaja Sawai Jai Singh II, the city was built of pink stucco in imitation of sandstone and is remarkable for its well-planned streets. Jaipur has attractions galore. One of the most important heritage cities of India, Jaipur is a must-see for any visitor to Rajasthan.
Jaipur was established in 1727 by Maharaja Jai Singh II as a new capital of Kachwaha dynasty. It grew very rapidly in the 19th century. Considered to be one of India's most well-planned cities, it was built in the form of a nine-part Mandala known as the 'Pithapada'.
Jaipur has a semi-arid climate while rainfall is concentrated between the months of June and September.
What to see:
The Amber Palace complex which overlooks an artificial lake is one of the most popular tourist sites in the city. It is famous for its mixture of Hindu and Muslim architecture. The Jaigarh Fort perched on the hills above the Amber Palace complex has many attractions like underground water storage tanks, a medieval canon foundry and a collection of medieval cannons. The City Palace and Hawa Mahal showcase the fusion of Rajput and Mughal architecture. The seven-storied Chandra Mahal Palace lies in the heart of the city and has many well preserved buildings and courtyards like the Mubarak Mahal, Diwan-e-aam and Preetam Niwas Chowk.
The Govind Devji Temple is dedicated to Jaipur's patron deity and is one of the rarest examples of flat roofed Hindu temples while Badal Mahal, the oldest structure of Jaipur overlooks the water tank called Talkatora.
Then there is the Jantar Mantar and the Sawai Man Singh Museum located within the City Palace complex. The exhibits in this museum comprise of the ancestral collections of the rulers of Amer and Jaipur.
Shopping in Jaipur
There are so many things to shop for in Jaipur. You can buy jewelry, beautiful gems, semi precious stones, kundan, and minakri work (enamel work on gold). Cotton fabrics including sanganeri prints, tie-dye and fine kota doria sarees are popular with women. Besides you can go for blue pottery, enamel ware and brass ware. Jaipur is also famous for woolen carpets, cotton rugs and leather footwear.
Nearby Attractions
There are several attractions around Jaipur. You can visit the Harshad Mata Temple at Abhaneri or experience the traditional block-printing process at Bagru. If you are a wildlife freak, you can visit the wildlife parks and sanctuaries at Ranthambhore, Bharatpur and Sariska.