Amber Fort, Jaipur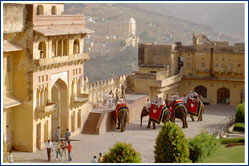 The Amber Fort is easily accessible being just 11 kms from Jaipur and is a marvel of architecture you wouldn't want to miss. A fusion of Mughal and Rajput architecture, you will be left wonderstruck at the reflection of the Fort in the placid waters of the Maota Lake below.
The magnificent Amber Fort which lies just 11 km from Jaipur was originally built by the Meenas and dedicated to Amba, the Mother Goddess, whom they called `Gatta Rani' or `Queen of the Pass' . The Amber Fort was built over the remnants of an earlier structure. While the construction of the Amber Fort began in the year 1592 and was started by Man Singh I, it was finished by his descendant Jai Singh I. The exterior of the Fort is in complete contrast to its interiors. While the outside is very rugged looking, there is something very comforting and warm about the interior. It has been influenced by both the Rajput and Mughal styles of architecture. There are many paintings on the walls depicting various hunting scenes. Built with white marble and red sandstone, you will simply marvel at the clear reflection on the Fort in the Maota Lake. The fort was modified by successive rulers till the Kachwahas shifted their capital to Jaipur during the time of Sawai Jai Singh II.
The structure which is now known as the Amber Fort was originally a palace complex within the original Amber Fort more popularly known as the Jaigarh Fort. The Jaigarh Fort is connected with Amber through a series of fortified passages. It overlooks the Maota Lake which is believed to have housed the treasure vault of the Kacchwaha rulers. While you are here, don't miss the elephant ride to the top from the base of the hill. Once you reach the top, you can get a beautiful view of Jaipur.
One of the star attractions inside the Amber Fort is the Hall Of Mirrors. In the days of yore, when members of the royal family needed light to move around they would light a single candle and the entire hall would light up because of the tiny intricately carved mirrors.