Albert Hall, Jaipur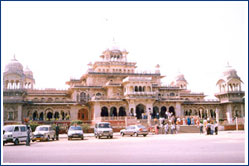 The Albert Hall Is An Excellent Excursion In Jaipur With A Museum, A Greenhouse, An Aviary, A Zoo And A Sports Ground
The Albert Hall (Central Museum) is located in the Ram Niwas Garden, a vast and verdant garden having a zoo, a greenhouse, an aviary, a museum and a sports ground. Built by Maharaja Sawai Ram Singh II in 1868 to provide relief to his subjects struck by famine, Albert Hall was built in the Indo-Saracenic Style of architecture and was named after Albert, the consort of Queen Victoria. Its foundation was laid by Albert's son, the Prince of Wales (later Edward VII) in 1876. This splendid building was designed by Colonel Sir Samuel Swinton Jacob.
The Albert Hall displays Rajasthan's multi-hued art and culture besides housing an exquisite collection of metal ware, decorative wares, portraits, sculptures, paintings and various other artifacts. The Museum also depicts Rajasthani rural life through costumes, pottery, brassware and woodwork. The Durbar Hall has several beautiful carpets including the magnificent Persian Garden Carpet.
The Garden of Paradise in this Museum comes alive with fish, birds, animals and trees. There are many beautiful sculptures on display here which include a tiny turbanned lady dating back to 2nd century BC, a stone Shiva head belonging to the 8th century and 18th century wooden figures from a chariot of the erstwhile Banswara state. Then there is a horse skeleton, human skeleton and a many more items on display. The museum also has an auditorium, a modern gallery and an open-air theatre to stage cultural events.