Pushkar Mela, Ajmer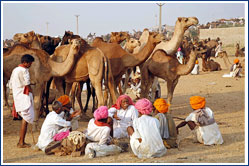 Pushkar Fair Is Held Each Year In Pushkar Town, Known For The Only Temple Dedicated In The World To Lord Brahma. The Fair Attracts Millions From Across The World For Its Religious Significance As Well As Cultural Extravaganzas.
The world-famous Pushkar Fair or Pushkar Mela, is the largest camel fair in the world held in the town of Pushkar in Rajasthan. Pushkar is situated 11 kms to the north-west of Ajmer, another important spiritual and historical town of India.
The festival is held on the banks of the Pushkar Lake. Celebrated on the day of Kartik Purnima, legend has it that the lake was created by God Brahma. People take a dip in its holy waters to find spiritual salvation. It had captivated the legendary Indian poet, Kalidas so much that it finds a mention in his epic Abhigyan Sakuntalam. Even the Great Hindu epics of Mahabharata and Ramayana refer to Pushkar as Adi Tiratha. The demon Vajra Nabha is said to have killed Brahma's children, who in turn struck him with his weapon, a lotus flower. Vajra Nabha died as a result of the impact, and the petals of the lotus fell at three places, one of which was Pushkar, where a lake sprung up. Brahma is then supposed to have performed sacrifice here on Kartik Purnima. Pushkar is the only place in the world to have a temple dedicated to Lord Brahma.
Competitions like "matka phod", "moustache show", and "bridal competition" are held here that draw tourists in hordes. The local people buy and sell their livestock and it is also an excellent opportunity for them to trade.
For the tourists, there are numerous attractions in Pushkar. These include the Jagat Pita Shri Brahma Mandir, the only temple in the world dedicated to this deity. The other important temples are the Savitri Temple which is an hour's trek and sits on a hilltop, the Varah Temple, the Mahadeva Temple and the Ramavaikunth Temple. Bracelets, clothes, textiles and fabrics do brisk trade. Camel races, music, folk dances and many exhibitions keep the visitors engrossed.
Pushkar Lake is surrounded by many palaces that were built by former rulers of different states of India. Several of these now offer luxury accommodation to enjoy the spiritual cultural experience of Pushkar in utmost comfort and style.