Ajmer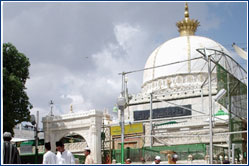 Ajmer, famous pilgrim—pay a visit to its Dargah-Sharif (tomb) if you want your wish to be granted.
Ajmer,a holy city was founded by Raja Ajay Pal Chauhan in the 17th century AD. It also saw a spate of dynasties being formed here by the rulers. Today this green patch of Rajasthan is a famous pilgrimage center occupying a prized place not only in the hearts of Muslims but Hindus too. Pilgrims from various religious backgrounds offer prayers at Dargah-Sharif of the Sufi saint Khwaja Moinuddin Chisti. It is believed that whoever prays earnestly with faith at this Dargah never goes back empty handed.
Ajmer is also an education center. Mayo College where the boys of royal families used to study has now become one of the best schools of India.
Pushkar which is only 11km from Ajmer is a must-visit place. According to a popular belief lord Brahma(the creator of the world) resides here. The Pushkar lake is a divine lake for Hindus. The Pushkar fair is one of the largest cattle fair of India. It is high on entertainment quotient.
Ana sagar lake in Ajmer ia an artificially built lake. Anaji Chauhan built it in the 12th century. It gives a soothing effect to eyes.
Merwara Estate, a very old palace, overlooking Ana Sagar lake has an European touch to its architecture. It boasts of around 50 fully furnished guest rooms, a huge restaurant, squeaky clean swimming pool and a big conference hall.
How To Reach:
AIR
You can reach there by air from Delhi/Mumbai. The closest airport is Jaipur.
RAIL
You can easily reach Ajmer by train. There are trains from Delhi, Mumbai,Jodhpur, Bikaner, Kota, Chittorgarh, Alwar.
ROAD
Bus services are provided from all places like Jaipur, Agra, Aligarh, Abu road, Bikaner, Bharatpur, Barmer, Haridwar, Chittorgarh, Jodhpur, Jaisalmer and Nagaur.