Urs Galiyakot, Udaipur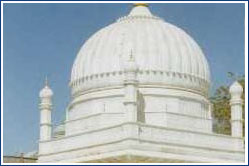 The Urs At Galiyakot Is An Important Pilgrimage For Dawoodi Bohras And Also Attended By People Of Other Faiths In Large Numbers.
Galiyakot, a small village in the Sagwara Tehsil of Dungarpur district of Rajasthan lies on the banks of the Mahi River. It is held in great esteem by Dawoodi Bohras, a sect of the Ismaili Shia Muslims. People from this sect gather at Galiyakot at the memorial of the most revered saint, Sayyed Fakhruddin, known as Mazar-e-Fakhri. Pilgrims to this fair not only come from Rajasthan, but from states like Madhya Pradesh, Gujarat and from other countries.
The Urs is celebrated on the 27th day of Moharram, the first month of the Muslim calendar. Devotees come here to seek the blessings of the saint and many of them come again to express their gratitude after their wishes are fulfilled. The tomb is bedecked with flowers and lit up with lamps before the ceremonies start. The Urs starts with mass prayers and recitation of the Holy Quran. A devotional gathering called 'majlis' is organised where singers sing in praise of the saint. The ceremonies are headed by the Dai-UI-Mutlaq, the religious head of the community and devotees offer sweets, fruits, coconut, jaggery and many other items. A free community lunch is served. The Urs draws many tourists from far and wide, besides the faithful.
Rajasthan has people belonging to different faiths and the Urs at Galiyakot sees the attendance of people belonging to different faiths.
Galiyakot is well connected with Dahod on the Delhi-Mumbai rail route while there is another route from Ratlam.