Hotel Devigarh Palace, Udaipur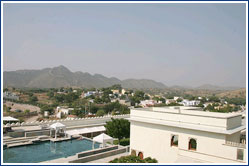 The Devigarh Fort Palace is a sight to behold. Commanding one of the three passes into the Udaipur valley, Devigarh affords a striking view of the surrounding places. The 18th century Devi Garh palace is a stunning location for a fairly-tale wedding, a second honeymoon or just a getaway from the stressful rigmarole of day to day life. Popular with the Hollywood royalty and the moneyed celebrities alike, Devigarh truly stands apart even in Imperial Rajasthan.
The 18th century Devi Garh Fort Palace lies in the Aravali hills of Rajasthan and commands one of the three main passes into the Udaipur valley. This very important principality was awarded to Sajja Singh in recognition of his bravery and loyalty to Maharana Pratap during his fight against the Mughal Emperor Akbar, at the battle of Haldighati (1576). While the actual construction of the palace started only in the 1760s, under Raghudev Singh II, many additions were made by the later rulers. After extensive restoration, Devigarh has regained its pristine charm and is also the last word in luxury.
Devi Garh beautifully combines the traditional and the modern. The palace has been built from marble and semi-precious stones. Locally available raw materials have been used to create charming aesthetics. Devi Garh is now an imposing and impressive all-suite boutique hotel. It offers personalized service together with a wide range of personalized service. Devigarh Palace has two 12 feet high blocks of uncut white marble at the entrance. Like other traditional Indian dwellings, it revolves around five courtyards, each of which blends classical and modern designs.
It is a quick drive away from the hustle and bustle of the city, a place to soothe your frayed nerves and be one with nature. Devigarh is situated conveniently as a central place to travel to the nearby Bapparawal, Mujhela and Barwalia Hills, Udaipur, Eklingji, Nagda and many other places.