Tourist Destinations Rajasthan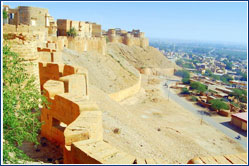 Rajasthan is the land of Rajput warriors. Rajasthan is a desert state, and most of its parts lie across the Great Indian Desert Thar. It is also bounded by the Aravali mountain range. These two features give it unique topography that has resulted in several great destinations in Rajasthan like Udaipur, Jaisalmer, Chittorgarh, Ranakpur and Jaipur. Rajasthan is also the land of royalty and a destination for festivals and fairs. If you want to enjoy wildlife and adventure, Rajasthan is still the place to come to. It is the land of palaces and forts; most of them have been converted into heritage hotels.
To know more about the destinations of Rajasthan and to plan a great journey into its imperial history and heritage, read on.