Wildlife of Rajasthan

Wildlife In Rajasthan Is Diverse And Plenty, Thanks To Its Varying Topography And Range Of Seasons That It Experiences. It Is Home To Project Tiger And Has Several National Parks And Eco Reserves.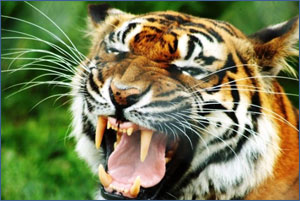 Rajasthan's topography ranges from barren deserts to dense forests and from the rugged Aravalis to fresh water wetlands that are home to a rich variety of flora and fauna.
Besides a wide range of fauna and flora that are inhabitants of Rajasthan, the various sanctuaries and national parks also attract many species from all over to form their temporary habitat here. Rajasthan has many world famous National Parks and Wildlife Sanctuaries like the Sariska Wildlife Sanctuary, Ranthambore National Park, Bharatpur Bird Sanctuary and Desert National Park. Ranthambore and Sariska are among the few places in India that have a tiger population. Besides, there are many small wildlife sanctuaries and eco-tourism parks like the Mount Abu Sanctuary, Bhensrod Garh Sanctuary, Darrah Sanctuary, Jaisamand Sanctuary, Kumbhalgarh Sanctuary and Jawahar Sagar sanctuary.
A remarkable variety of animals like tigers, panthers, sambar, bison, black bucks, chinkara, the rare desert fox, antelopes, deer, monitor lizards, the endangered caracal are found in Rajasthan. Many exotic and colorful birds including migratory ones like Siberian cranes flock to Rajasthan during winters. One of the most endangered species, The Great Indian Bustard, is found in the sand dunes and thorny vegetation of Rajasthan.
Camel, horse, jeep or elephant safari can be taken up to see the animals in the wild. Most sanctuaries are situated close to or have a luxury heritage hotel within their boundaries.