Fairs and Festivals
Rajasthan Is A Land Of Fairs And Festivals. Each Part Of This Vibrant State Celebrates In Its Own Unique Manner. These Festivals Provide Tourists With A Chance To Gain An Insight Into The Lives Of The People Of This Desert State.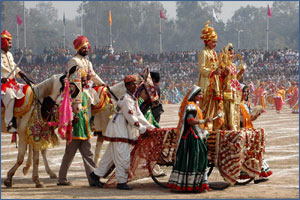 Rajasthan is a place where tradition and royalty meet against the enchanting hues of a desert landscape. It is a land of festivals and fairs. The people of this desert state celebrate many a festival with gay abandon throughout the year. There are festivals to go with every religious occasion, every change of season and every harvest and with people of different religions and creeds having made Rajasthan their home, life in Rajasthan is one long festival.
These festivals provide a unique opportunity for tourists to gain a fascinating insight into the life of its inhabitants. Many of these festivals include elephant, camel races, dance and music specially organized for tourists.
Among the most popular festivals in the Pushkar Camel Fair organized in Pushkar in November. It is an important religious festival as well as the venue of a large cattle fair. The Desert Festival is organized in Jaisalmer in January -February. A very popular festival, here performers like musicians, ballad singers, snake charmers, and puppeteers showcase their skills. Then there are camel dances, camel acrobatics, camel races, camel polo, tug-of-war between musclemen, a turban tying competition and many other contests. It ends with a spectacular sound and light show.
The Elephant Festival is held in Jaipur in March-April. This festival is organized during Holi and involves elephant sports. The elephants are decorated in eye-catching caparisons and howdas and it is a sight not to miss. Gangaur Festival held in March-April is dedicated to Goddess Parvati. Young girls dressed up in their best pray for the grooms of their choice while married women pray for the well-being of their husbands. The festival is held over a period of 18 days.
The Marwar Festival organized in Jodhpur in October celebrates the music and dance of the Marwar region. It was originally known as the Maand Festival which was a classical style of folk music revolving around the romantic life style of Rajasthan's royalty.
Besides there are other festivals like the Camel Festival celebrated Bikaner in January, the Teej Festival organized in Jaipur in July-August, the Nagaur Fair in Nagaur in Jan-Feb, the Baneshwar Fair in Baneshwar in Jan-Feb, the Mewar Festival held in Udaipur in March-April, the Urs Ajmer Sharif held in Ajmer and many others.