Mount Abu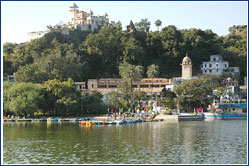 Mount Abu, The Only Hill Station In Rajasthan Is Famous As The Summer Capital Of Rajasthan. It Is Known For The Beautiful Dilwara Jain Temple And Several Palace Hotels.
Mount Abu-the only hill station in Rajasthan, is the summer capital of the state for good reason. Lakes, waterfalls, abundant greenery and an eco-zone comprising of a wildlife reserve that is also a UNESCO heritage site, make Mount Abu very special. For its excellent climate, the British used Mount Abu as a sanatorium for their troops. Nowadays, it is a very popular honeymoon and holiday destination.
Various Royal families of Rajasthan had their summer palaces in Mount Abu that are now functioning as heritage hotels. They all have beautiful views of the Aravali Hills and the Nakki Lake that is the centre of attraction in Mount Abu. The notable ones among the heritage properties are Palace Hotel Bikaner House of the erstwhile Bikaner royal family, Jaipur House of the Jaipur family, Palanpur Palace Hotel of Palanpur and Kesar Bhawan Palace of the royal family of Sirohi.
Mount Abu stands at the peak of the Aravalis at a height of 1220 meters. Once dedicated to Lord Shiva, it later became a Jain pilgrimage centre. Also famous for the Dilwara Jain Temple, this hill station is known for its striking beauty. Legend has it that a 'yagna' was performed here and four Agnikula or fireborn Rajput clans- the Chauhans, Pratiharas, Parmaras and Solankis were born from the fire.
WHAT TO SEE:
Dating back to the 11th century, the Dilwara Jain Temple is renowned for its superlative carving in marble and is a shrine dedicated to the various Jain Tirthankaras or saints. Gaumukh is a natural spring that flows through a sculpted cow's head. The beautiful Nakki Lake in Mount Abu is believed to have been carved out by the Gods with their nails. Besides these, the Adhar Devi Temple, Andhra Point (Honeymoon Point), Shri Raghunathji Temple and Sunset Point are popular with sightseers.
The Government Museum has an excellent collection of archaeological excavations going back from 8th to12th century A.D and provides great detail into the past of this region.
CLIMATE:
Best Time to Visit: Mid-March to June and Mid-September to December.
Summer Temperature: 33.3 ○C (Maximum), 23.3 ○C (Minimum)
Winter Temperature: 23.3 ○C (Maximum), 11.6 ○C (Minimum),
Rainfall: 153 to 177 cm
Clothing: Summer Cottons. Winter Woolens
Languages: Gujarati, Hindi, and English
SHOPPING:
There are many items to shop in Mount Abu. These include jewelry, fabrics, wooden articles, gemstone, leather ware, Kota saris and apparels, Rajasthani bangles, Sanganeri prints in linen and Curios.
EXCURSIONS:
Achalgarh, situated 11 km from Mt.Abu is famous for the Achalgadh fort commissioned by Rana Kumbha. Guru Shikar, 15 km from Mount Abu is the highest peak on the mountain at a height of 1722 meters above the sea level. Another highlight is the Mount Abu Widlife sanctuary which was declared as a Wildlife Sanctuary in 1960.