Kota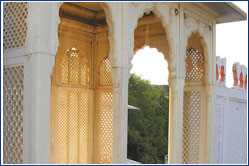 Famous For Its Kota Style Of Miniature Painting, Kota Saris And Kota Stone, Kota Lies On The Banks Of The Chambal River. Its Forts, Palaces And Temples Lend It A Distinctive Charm.
Kota is the land of valorous warriors. Many battles were fought down the ages to capture Kota, by Marathas and Mughals. Its history and imperial past are a great attraction for visitors. The royals had many a fort and palace built that have been converted into charming and luxurious hotels in the present times. The royals were also patrons of arts and crafts that gave rise to the famous Kota school of miniature paintings, apart from other crafts like textile weaving and stone carving.
A twin city of Bundi (another important destination of imperial Rajasthan), Kota is also very close to the travel circuit of Delhi, Agra and Bharatpur and is an excellent place for rest in peaceful and luxurious environs. Trips to the nearby wildlife sanctuary at Darrah and various ancient Havelis around the town offer recreation.
Kota was founded by Rao Madho Singh in 1631 A.D. Famous for its forts, palaces and temples, Kota stands on the banks of the Chambal river. Kota has its distinctive style of painting and produces fine translucent muslins called Masuria Malmal. These saris were originally called Masuria because they were woven in Mysore. Some expert weavers were brought to Kota by Rao Kishore Singh who was a general in the Mughal army and the saris subsequently came to be known as 'Kota-Masuria'.
WHAT TO SEE:
Jagmandir-It stands pretty amidst the artificial lake of Kishore Sagar constructed in 1346 AD by Prince Dher Deh of Bundi. Chambal Garden, Kota Barrage.
Brij Vilas Palace Museum and Rao Madho Singh Museum are other major attractions.
CLIMATE:
Temperature: In summer temperature can go up to 45 degree Celsius while in winter it dips to 10 degree Celsius
Rainfall: 38 to 57 cm
Clothing: Summer Cotton, Winter Woolens
Best Season: Sept. to March
Languages: Hindi, Rajasthani & English
SHOPPING:
Kota is famous for its Kota Doria saris, finely weaved with cotton and silk threads. Besides you can scout for some beautiful pottery.
EXCURSIONS:
Darrah Wild Life Sanctuary-lying 50 kms from Kota, it was an erstwhile royal hunting preserve and is home to many species like the panther, spotted deer, tiger, wild boar and bear.
FAIRS AND FESTIVALS:
Kota's Dussehra festival is very famous. On the festival day, a young child dressed as Lord Ram shoots an arrow of fire at Ravana's effigy.