Hotel Umaid Bhawan Palace, Jodhpur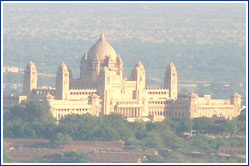 A Trip To Jodhpur Is Incomplete Without A Visit To The Fascinating Umaid Bhawan Palace. Once The Largest Private Residence In The World, This Is A Palace Like No Other.
Earlier known as Chittar Palace due to its location on the Chittar Hill, the foundation of this Palace was laid in 1929 by Maharaja Umed Singh, though it remained unfinished until 1944. This magnificent palace was constructed to provide work and drought relief to over 3000 people. It was named after Maharaja Umaid Singh. Visitors to this Palace can experience different aspects of royal living, with period furniture, priceless antiques and artifacts.
The highlight of the construction of this building lies in the fact that it does not use mortar or cement to bind the stones. The carved stones are joined together by a system of interlocking. The Palace, when built was the world's largest private residence. The central dome stands at a height of 110 feet. Designed by the architect, H V Lanchester, the interiors of the palace was designed by Maples of London. It has a male section and a ladies section, with separate entrances, according to the tradition of those times.
The present owner Maharaja Gaj Singh has divided the Palace into three parts, one housing a luxury hotel, another the royal family while the third part which is open to the public has a small museum.
Inside the Palace, the Trophy Bar, Risala Restaurant, Marwar Hall and Pillars Restaurant are really a one-of-its-kind experience. The museum here displays fascinating arms, furniture, antique clocks and China vases from the private collection of the Maharajas of Jodhpur. The Palace Hotel is also famous as a conference destination. While you are in Rajasthan, you simply cannot afford to miss the Umaid Bhawan Palace.