Hotel Ajit Bhawan, Jodhpur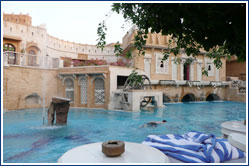 Heritage Hotel Ajit Bhawan Is The Perfect Place To Experience The Splendor Of The "Sun City" Of Jodhpur.
A magnificent mansion built by Maharaja Ajit Singh of Jodhpur, Hotel Ajit Bhawan in Jodhpur once housed the royal family. This Palace was constructed for Maharaja Ajit Singh, the younger brother of Maharaja Umed Singh, the ruler of Jodhpur.
This magnificent mansion will leave you spellbound with its aesthetic appeal and amazing architecture. Though it has now been transformed into a luxury hotel, a part of the palace is still occupied by the royal family.
You can relax in the luxurious ambience of the Hotel Ajit Bhawan where you will be treated like royalty. The 81 rooms in the Hotel have telephone, TV, Mini bars, air conditioning, Wi-Fi and all other amenities of modern life.
The multi-cuisine restaurant here offers exotic Indian, Marwari, Rajasthani and Continental dishes to tickle your taste buds. Besides, there are excellent conference and banquet facilities here while the meeting rooms and boardrooms have modern electronic equipment.
Jodhpur, also known as the "Sun City", is the second largest city in Rajasthan. You can feast your eyes on beautiful palaces, forts and temples while you are here.
Hotel Ajit Bhawan combines old world opulence with the amenities of modern life and another advantage is its central location. There are antiques and photographs from the past which adorn the walls. The suites have marble bathrooms. Besides it has a well-equipped health club, massage parlour and travel desk.