Hotel Fort Rajwada, Jaisalmer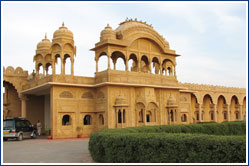 One of the best luxury hotels in Rajasthan, the Fort Rajwada Hotel in Jaisalmer is sure to leave a lasting impression on your heart and mind
The Fort Rajwada Hotel in Jaisalmer is one of the most reputed luxury hotels in Rajasthan. Located right in the heart of Jaisalmer, it lies very close to the city's railway station and is not far from the city's airport. The Fort Rajwada hotel offers a perfect blend of luxury and utility. It has 65 rooms with rich decor and elegant furnishing. The rooms are bright and lively keeping with the spirits of the people of Rajasthan. You can enjoy all modern amenities during your stay here. The staff at this hotel will spare no effort to make you feel at home.
You can enjoy traditional Rajasthani meals at the Roopal restaurant here which has a capacity of 85 persons while the dining hall Sonal can accommodate almost 150 people. Its interior decor brings alive the romance of the desert. After a hectic day, you can relax at the Paatu Bar. Fort Rajwada also has conference and banquet facilities.
Its exquisite architecture blends perfectly with the architecture of Jaisalmer. Fort Rajwada was successfully restored by Dileep Singh Rathore and Jitendra Singh Rathore. The interior decoration of this splendid building was done by Ms. Stephanie Engeln.
The exquisite lattice windows (Jharokhas) are sure to take you to a glorious past. The suites in the hotel are spacious and are tastefully decorated.