Sheetla Mata Fair, Jaipur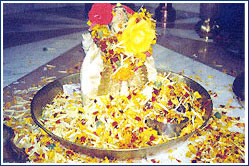 Held In The Months Of March-April In The Village Of Seel-Ki-Doongri Near Jaipur, The Sheetla Mata Fair Attracts Hordes Of Visitors From Far And Near. It Is Believed That Epidemics Occur Because Of The Wrath Of Sheetla Mata And Hence People Pray And Make Offerings To Pacify Her.
Every part of Rajasthan has its own unique festival. The village of Seel-Ki-Doongri lying on the Jaipur-Kota road near Jaipur is famous for the Sheetla Mata Fair. This fair held in March-April (Chaitra according to the traditional calendar) attracts thousands of pilgrims. While you are, it is customary to cook one's own food at the site of the fair and eat it only after it has been offered at the shrine. Devotees of the Goddess flock in droves in decorated bullock-carts. It is quite fascinating to watch these colourful bullock carts and their equally colourful occupants.
During the time of the fair, a temporary market comes up here where the rural folk trade in shoes, clothes, food stuff, utensils and agricultural implements. Besides a cattle fair is organized during the fair where bullocks, camels and horses are sold. Sheetla Mata is believed to be the Goddess of small-pox. The shrine to Sheetla Mata is perched on a hillock, locally called Doongri. The present temple is believed to have been constructed by Maharaja Madho Singh of Jaipur.
Sheetla Mata is held in great respect and awe by people across India. The Goddess is also known as Mata or Maha Mai in U.P, Mai Anama in western India and Sadh, Sheetla or Sedal Mata in Rajasthan.