Hotel Rambagh Palace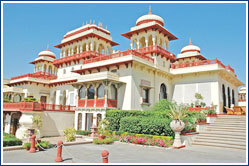 The romance of history and royalty is embedded in Rambagh Palace at Jaipur. Originally built for the Queen's handmaiden named Kesar, it was converted later into a hunting lodge for the Jaipur royal family. Even later, it was converted into a palace and became a royal residence. Built in 1835, Rambagh Palace was designed by Sir Samuel Swinton Jacob and is aptly called the Jewel of Jaipur for its beauty.
Built inside 47 acres of verdant gardens, it is now a heritage hotel. With marble corridors, tastefully appointed rooms and history echoing in its corridors, Rambagh Palace gives true experience of royal living. The rooms have been refurbished to suit the convenience of present day travelers. The accommodation includes luxury rooms, royal suites, historical suites, grand royal suites and the grand presidential suite.
Facilities for sports like croquet, mini golf, squash and tennis as well as polo (on request) are available. The fitness and training facilities include a heritage indoor swimming pool, gym, Jacuzzi, an outdoor pool as well as a spa and ayurvedic massage therapies. The Rambagh hotel is fully equipped for business, banquet, concierge and leisure services to meet all kind of requests and can organize conferences, meetings and formal dining besides grand events.
Dining at Rambagh Palace is of the highest quality as is to be expected and includes casual as well as fine dining. There are two restaurants, a bar and an alfresco dining location.
The Rambagh Palace delivers to its guests a taste of royal living in the finest Rajput tradition.