Jantar Mantar, Jaipur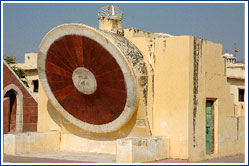 The Jantar Mantar In Jaipur, Is A Unique Observatory With All Instruments Made Of Stone.
The Jantar Mantar is a collection of astronomical instruments, built by Maharaja Jai Singh II in Jaipur between 1727 and 1733. It is modelled after the Jantar Mantar in Delhi and is one among the five similar observatories he had constructed across North India.
The name Jantar Mantar comes from the words yantra for instrument, and mantra, for chanting; hence it literally means the 'the chanting instrument'. It consists of various geometric devices for measuring time, predicting eclipses, tracking stars, determining the celestial altitudes and many more related phenomena. The Samrat Yantra, which is the largest instrument, is 90 feet high and tells the time of day. The cupola on the top was used as a platform to announce eclipses and the arrival of monsoons.
These were built of locally available stone and marble. These instruments have an astronomical scale, marked on the marble inner lining. The Jantar Mantar was declared a national monument in 1948 after extensive restoration.
The instruments are built in such a manner as to allow accuracy of readings. The Samrat Yantra, can give the local time to an accuracy of about two seconds. The Jantar Mantar has fascinated both astronomers and the ordinary populace since centuries. It just goes to show how the sciences were patronized by ancient Indian rulers.