Banganga Fair, Jaipur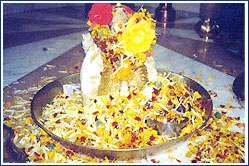 Banganga Fair Celebrates A Legend From Mahabharata About The Indian Tradition Of Respecting And Taking Care Of Elders.
The Banganga Fair is held near a rivulet 11 kms from the town of Bairath. Legend has it that the stream was created by Arjun, one of the Pandavas. It is believed that the Banganga stream emerged when Arjun shot an arrow to quench the thirst of the dying Bhishma Pitamah, the elder statesman and the family patriarch, who was badly wounded in the battle of Mahabharata.
Bairath is situated 85 kms from Jaipur on a diversion from the National Highway No. 8 near Shahpura. Regular bus services are available between Jaipur and Maid (Banganga is only a few kilometers from here). Pilgrims flock to this annual fair in droves. Taking a dip here and paying homage is held to be very auspicious by the pilgrims. Pilgrims come in thousands from places like Alwar, Behror, Jaipur, Bharatpur and beyond. This fair also sees the participation of traders who come from far and near to sell their wares. A wide variety of articles ranging from ornaments to toys and household items are sold here. The atmosphere of the fair is very colourful and festive and is also enjoyed by tourists.
Devotees flock to the Shri Radha Krishnaji's temple here besides the nearby temples dedicated Hanuman, Ganga Bihari and Lord Shiva. According to folklore, bathing in the holy waters of Banganga on the day of the fair purifies one's soul. The 200-year old Radha-Krishnaji Temple was built by Nandram Bakshi of Jaipur. Early in the morning the devotees congregate at the temple of Shri Radha Krishnaji. Thereafter, they proceed to take a dip at the Banganga river ghats.
If you are visiting Jaipur at the time of this fair, include it in your itinerary to get a first hand experience of rural Rajasthan and soak in the atmosphere.