Bharatpur
Bharatpur is famous for the renown Keoladeo Ghana National Park which houses a striking array of avian species and was once the hunting preserve of royals.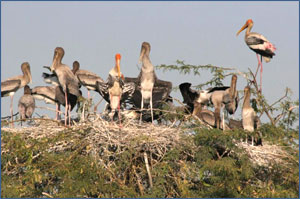 Although these days Bharatpur is famous for nearby Keoladeo Ghana National Park, one of the most prominent bird sanctuaries in India, it has a royal past. As it is very close to Agra and Delhi, Bharatpur is an easy gateway into Rajasthan. Bharatpur has a long and important history. The stunning palace of Deeg and the invincible Lohagarh Fort stand as testimony. The Lohagarh Fort also houses the Lohagarh Palace.
Bharatpur Palace is a spectacular reminder of its regal past. The exhibits in the palace go back to the 15th century. The luxury train Palace on Wheels also travels through Bharatpur. For the wildlife enthusiasts and bird watchers who also enjoy luxury and want to experience royal living, Bharatpur is an excellent getaway with its heritage and luxury hotels.
CLIMATE:
Summer : 45.0C(Maximum)
Winter : 31.OC (Maximum)
Season: October to February
The Keoladeo Ghana National Park houses many rare avian species. It stretches over an area of around 29 sq. km. of marshy terrain and houses around 353 avian species which include egrets, darters, cormorants, grey herons, Siberian crane, rosy headed pelican etc. Besides, the Sanctuary also houses a number of spotted deer, sambar, nilgai, python, wild boar and other species.
Another attraction is the Bharatpur Fort built by Raja Suraj which is also known as Loha Gadh. The fort houses many monuments like Kishori Mahal, Mahal Khas and Kothi Khas. The Bharatpur Palace is an excellent blend of Mughal and Rajput architecture.
EXCURSIONS:
Deeg at a distance of 32 km was the royal summer resort of the Bharatpur royalty and is famous for its forts, palaces and beautiful gardens.