Urs Fair, Ajmer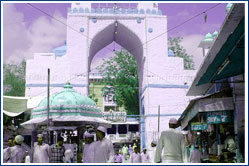 Held Every Year At The Dargah Of Sufi Saint Moin-Ud-Din Chisti, The Ajmer Urs Fair Sees People From Different Faiths Congregating In Large Numbers.
The city of Ajmer, in Rajasthan, is held in great reverence by people from different communities. Here in 'Ajmer Sharif' (Holy Ajmer) lie buried the mortal remains of the renowned Sufi saint Khwaja Moin-ud-din Chishti. The Khwaja is believed to have come from Persia (Iran). He established the Chishtia order of fakirs in India and earned the epithet Gharib Nawaz (protector of the poor). This Saint passed away after a life spanning almost a hundred years. The Khwaja embraced death in solitude after withdrawing to his cell for six days, asking not to be disturbed.
The Dargah Sharif in Ajmer plays host to the largest Muslim pilgrimage fair in India. The Urs is a very secular festival with people from all communities joining in the celebrations. Ajmer is 132 kms from Jaipur and 198 kms from Jodhpur. It is well-connected by road to different parts of Rajasthan and other states. The pilgrims who come here make rich offerings at the Dargah. These include rose and jasmine flowers, sandalwood paste, perfumes and incense. Besides they offer chadar, ghilaph and neema. These gifts are handed over to the khadims inside the sanctum sanctorum. The Urs here sees the participation of professional singers called qawwals who gather in groups and sing praises of the saint to the loud applause of the audience.
The Urs kicks off with the hoisting of a white flag on the Dargah by the Sajjada Nashin (successor representative) of the Chishtis on the 25th day of Jamadi-ul-Akhir (sixth lunar month). On the last day of the sixth month, the Jannati-Darwaza (gateway of heaven) is flung open and people cross this gate seven times with the belief that they will be assured a place in heaven. A fascinating ritual associated with the Urs is the looting of kheer (milk-pudding) which is distributed to the devotees as tabarruk (blessed food). A poetic recitation called mushaira is arranged where poets from all communities recite compositions dedicated to the Khwaja. The Qul (end-all) on the 6th day of Rajab marks the end of the Urs. Religious assemblies called mehfils are held in the mehfil-khana. The mehfil terminates late in the night with a mass prayer. The Ajmer Urs is living testimony to the plural traditions of India.