Kaila Devi Fair, Ajmer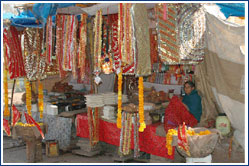 The annual fair dedicated to Kaila Devi is a great draw for devotees from all parts of Rajasthan and beyond.
The annual fair dedicated to Kaila Devi (Mahalakshmi or the Goddess of Wealth) is held in the village of Kaila in the Karauli district of Rajasthan. This fair is held in the month of Chaitra (Mar-Apr) and lasts for a fortnight. The temple is located on the banks of the Kalisil River in the Trikut hills, a little to the north-west of Kaila village. Besides the Kaila Devi temple, another attraction is a small temple dedicated to Hanuman, locally called 'Languriya'.
Around 2 lakh devotees gather here during the fair. Some of the devotees observe the ritual of Kanak-Dandotis. These devotees cover a distance of about 15 to 20 kms to reach the temple, not on foot but by lying prostrate. They make lines with their hands while lying prostrate, then advance up to the line drawn and repeat the process till they reach the temple.
Many of the devotees forsake food and rest during this trip as a mark of respect to the Goddess. In this fair, Meena tribesmen dance and sing in groups in praise of the guardian deity.
To come to this fair, the nearest rail-head is Hindaun located at a distance of about 48 kms. Another railhead is Shri Mahavirji on the Western Railway. Besides these you can come here from Karauli.