Dargah Sharif, Ajmer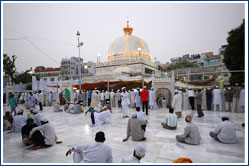 Dargah Sharif is a tomb built in the memory of a Sufi saint Moin-ud-din Chishti. Urs fair is celebrated every year at Dargah Sharif. This fair marks the celebration of the death anniversary of the saint. He came from Persia and was popularly known as Gareeb Nawaz, a person who helps the poor. His good deeds of going out of the way to help the needy were a great service to humankind. The saint was buried here after his soul left his mortal body.
Dargah Sharif is held in high esteem by Muslims. The Urs fair is one of the most widely celebrated Muslim fair in India. Not only devotees from Islamic religion come to pay homage at Dargah Sharif but also devotees from other religions come here to offer prayers. The fair is celebrated in the seventh month of the Islamic calendar. Lakhs of devotees visit the fair to take blessings of the saint. It is believed that if you wholeheartedly pray for something, the Saint grants it.
During the festival the city of Ajmer looks vibrant and people by all means seem to be in festive mood. Forging a spiritual bond between the people from varied background, the Urs Fair is characterized by a series of cultural events embraced in spirituality. The offering made by the devotees at Dargah Sharif is called Nazrana which includes Chadar, neem, ghilaph, rose and jasmine flowers, perfumes and sandalwood.
The fair begins with the hosting of a flag at Dargah Sharif by Sajjada Nashin (successor representative) of Chishtis. Before covering the tomb with an embroidered silk cloth, it is washed with rose water. This ritual is referred to as 'Ghusal'.
The complex of Dargah Sharif comes alive with qawwalis (songs in the praise of the saint) and Mehfils (religious assemblies).
An interesting ritual observed here is looting the Kheer (milk-pudding) which is considered as blessed food. It is distributed amongst the visitors.
Fatiha and Salamti are read on the last day of the celebration and the holy Urs fair at Dargah Sharif culminates with burning of crackers.